Good Morning
Russel Conwell strode to the lectern, ready to give his speech. Delivering about 1000 times a year he knew it back to front. And he knew before he had even started it was going to be a grand success.
Audiences always flocked to the auditorium to hear him deliver his speech 'Acres of Diamonds.'
In one part of the speech Conwell tells a story that was told to him in the Middle East by the guide showing him the holy lands. The Guide said "he only told this story to his special friends."
The guide told Conwell the story of a farmer in ancient Persia. This farmer was wealthy – not the richest man in the land by any measure but he had lots of capital at interest and a large productive farm – enough for most men to be content.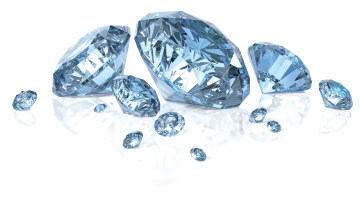 A Buddhist Priest travelling the lands ends up on this man's farm and he tells the farmer the history of the world. In that story he tells our farmer that diamonds are a congealed drop of sunlight and they are so valuable that a single diamond could buy an entire county… Armed with his own diamond mine The Priest told him that his children will sit on thrones because his wealth will make him so powerful.
After a restless night he wakes the priest early in the morning to find out where he can find diamonds and a diamond mine. The priest tells him the best place to find diamonds is white sands near where a river runs through them between high mountains.
Our farmer, seduced by the idea of being the wealthiest man for miles sells every worldly possession he has and sets out to find these fabled white sands.
After years of wandering through the Middle East the man journeys into Europe. He makes it all the way to Spain. He is broke, wretched and malnourished and he dies with his dream unfulfilled.
The audience is riveted by the story at this point. Conwell knew this was only the opening story and that this time it was going to be a good speech. He continues the story…

The fellow who purchased the farm finds a diamond in the creek. After some exploration it turns out that farm was sitting on the land that would become Golconda, the most productive diamond mine on earth. Diamonds from Golconda were used in the crown jewels of both England and Russia – some of the largest diamonds on earth.
Conwell delivered the speech to its conclusion sharing story after story of people who had acres of diamonds in many cases literally in their own back yards, yet left them to seek their fortune elsewhere and never made anything of themselves.
The same principle applies for almost every business including yours. There are 'Acres of Diamonds' hidden in every business. To mine those diamonds for yourself requires that you know how to spot those diamonds and you build the mine in the first place.
However, many business owners are seduced into searching for their diamonds out there and often end up like the farmer in the story – a long way from home with not a lot to show for it.
Those Acres of Diamonds in every business are your existing customers.
They have the power to sustain you, grow your business for you
and can be used to create wealth as well as increase your income.
These diamonds, are your existing customers – an under-utilised resource in almost every business. They have something going for them that real diamonds don't have – they can multiply themselves. Your existing customers (and potential customers) are an asset to your business and need to be invested in.
These days existing customers are harder and harder to keep. Losing them sooner is actually crippling to your business and implications of losing more customers faster is often overlooked. It is all because:

Since the Global Financial Crisis, the customer has realised the power they have had all along. They have become New Economy Customers.
They don't need to tolerate rude staff, below average service and lack of appreciation shown by businesses. To them you are just a commodity and they will treat you like one unless they have a really good reason not to. Quite frankly, the change in the global financial situation gave a lot of people a chance to stay home and punish businesses that weren't cutting the mustard.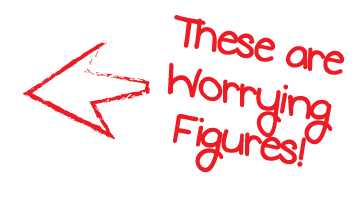 2,700 businesses folded in Australia in the last quarter of 2011. Marking the end of a 48% increase in business closures from last year according to Dun & Bradstreet, they also downgraded another 128,000 businesses. Meaning a betting man could expect them to fail in the coming year or so.
The businesses that closed were not scattered randomly. They were all outside the mining sector and the smaller the business, the more likely it was to close.
Dun & Bradstreet went on to point out that the failure rate of business was increasing at a rate of 30% a year since the global financial crisis.
Customers are now expecting knowledgeable staff, excellent customer service and a good product at a reasonable price.
For businesses doing those things you might say, are only paying 'price of admission.' The bare minimum you need to do to stay in business in today's now economy.
If you want a good business – not just one that pays the bills every month, you have to stand out next to your competition. All of them are going to be doing the 'price of admission' things. You need to do more in order to become a great business. Just doing what you've always done is going to lead to extinction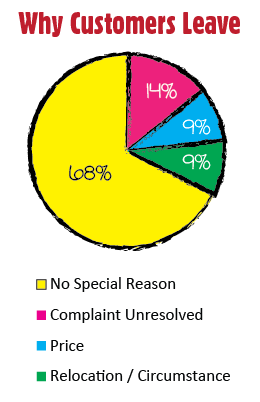 The BRUTAL reality about the New Economy:
The customer is now king

and knows it

The New Economy customer will not tolerate 'good' anymore. Everything must be exceptional or else you'll be out of the game

They will be very selective about where and with whom they spend their money

You must earn the right to sell and (re-sell) to them because they know they have choices and are willing to punish you for not looking after them
You can see it the following trends outlined by Business Author and Customer Defection expert Laurence Haughton:
About one-third of all insurance clients are looking around.
Over half of all cell phone customers are on the edge (the same is true in financial services).
Four of five apparel buyers are ready to switch.
And 94 out of every 100 diners who bought a burger last week may not come back this week.

And the stats are no better in professional services and B2B.

55 per cent of enterprise software buyers are 'real antsy.'
61 per cent of executives who outsourced something say, "Going forward, we'd love to find someone else to outsource with."
So as you can see, a lot of customers regardless of the product, industry or switching cost are more than happy to buy from someone else.
According to a Rockefeller Corporation Survey 68% of customers leave because they feel that the business doesn't care – the survey respondents said 'no special reason' – which also means that they didn't have a special reason to stay either. Another 14 % left because their complaints were not handled.
Price interestingly is the main factor in only 9% of lost customer cases. The remaining 9% was due to relocation and change in circumstances.
This means that you can easily retain 82% of your defecting customers just by showing them that you care about them and looking after them and appreciating them.
.
.
.

Appreciation means a lot more than just showing up when you want money. It doesn't build a relationship – it doesn't build loyalty. It makes people feel like they are just a cash dispenser.
I mean, who honestly wants to feel like their sole purpose in life in to pay your business money? And this is reflected in the defection statistics. If you treat your customers like a commodity and don't give them a special reason to stay they are going to treat you like a commodity and get their needs met elsewhere.
This is why you need to be actively building a relationship with your customers and showing them that you really appreciate their business. How many times do you show any appreciation after the sale? Do you keep following up with those customers beyond the first sale or do you get their money and forget about them?

From your own experience you can agree that it is costing more and more to get a new customer these days. What most business owners neglect is the relationship between keeping customers for life and customer acquisition. A true understanding of just how important this is relationship is.
Customers come and customers go. The ratio of customers gained to customers lost is called churn.
Let's talk through an example of customer churn: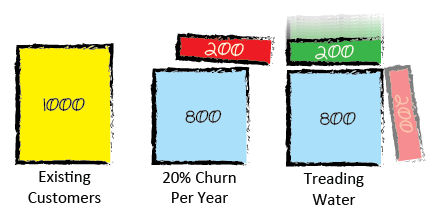 Now let's say that you have a customer base of 1,000 and you lose 20% of them in a year – about 200 customers.It means that over 5 years you will lose your entire customer base if you aren't acquiring any customers.To maintain a steady state in your customer base you need to add 200 customers a year. Let's call that treading water…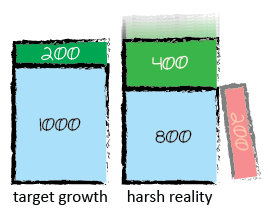 Let's say your goal is 20% growth.You want to add 200 customers a year. That means you actually need to acquire 400 customers a year to meet your goals.That is a lot of unnecessary heavy lifting to grow your business. In fact you are doubling the amount of work you have to do to reach your growth goals– this is why so many businesses fail to reach them.They don't remember they have to replace their lost customers before they can grow. Which is why many businesses find it so difficult to grow.They forget about this 'hidden' tax on growing businesses.Remember the pie chart above! 82% of your customer defections can be prevented. So that means 164 of the 200 customers are leaving despite being perfectly happy with the service, the quality of your product, the delivery times. They just want to feel appreciated and looked after.You can keep 164 just by showing some appreciation. In many cases it doesn't have to be much either. So let's say you can keep about 82 of them. All of a sudden you only need 116 customers instead of 200 in order to tread water.This means to grow 20% you only need 318 new customers not 400.

Your job is 21% easier. For a business that is currently only attracting 350 new customers a year this shift from 400 down to 318 new customers means that you have escaped a death spiral and now are on a steady path to growth.
McLean Insurance made customer retention a priority. The foundation of their customer retention strategy was their printed monthly customer newsletter… On the back of that newsletter they managed to get their retention rate from 86% to 91%. They cut their defection rate by a third – each percentage point increase in retention, translated into 100,000's of dollars in additional revenue.
But now we should probably look at the easiest cheapest way to cut customer churn completely out of the equation of any business.

If you think about it this way the average wedding and funeral attendance is 52 according to the author of "How to Sell Anything to Anybody," Joe Girard.
From this statistic you can conclude most adults have around about 52 friends. That means that every customer could refer 52 people to your business over their life time.
Who has a business where they get 52 referrals per customer?
Yeah… we know… that's an unrealistic goal. But you get the point.
You can use Referrals to offset churn completely.
Here is the magic formula. You actively work to get each active customer to refer one person to you. That's it!
In the time they are active if they refer just one person to you that means that when they leave you, then they have already replaced themselves. It wipes out churn.
In all my time consulting with businesses I can honestly say that if you don't know your referral rate you are doomed. It is the single and I mean single most important number in any business that is operating.
If your business is generating a solid stream of referrals, it is far more likely to grow than a business that is getting all of its business from advertising. Across almost every industry this metric seems to have the strongest correlation with success.
In all honesty with the economy sliding the way it is now, I would honestly say that one referral per customer is the minimum acceptable rate of referral for a business nowadays. It wipes out churn and any additional referrals and customers that come in from advertising are all growing your business.
Stop and think this is how important referrals can be… Investing in marketing to obtain a single referral from each customer completely eliminates churn. They have replaced themselves before they leave.
I was talking with a client who sells shade sails (not a great deal of repeat business for this business). We were discussing what he would like to get out of his customers. It turns out that he can create 36 referral opportunities over three years for about $36 dollars.
A quick Google search shows a DIY shade sale kit starts at $850.00 – this is the cheap end of town which our client doesn't play in. For him $36 in additional cost of sale isn't going to break the bank when it gives you 36 chances to create a referral for another shade sale.

Almost every sales and marketing book will tell you that you need to get referrals. It will go into what you need to do to get referrals.
But none of them tell you how a conscientious effort to get referrals can grow your business over 5 years
The truth is, these days Customers expect more. They want to feel appreciated. Then they know that the people they refer will also be appreciated.
If they feel that all you are interested in is their money then I can guarantee that you are not going to get the referral rates you want.
Referrals can be gotten in many ways, and we always discuss this with new clients to maximise their chances of generating the most referrals they can.
The key thing to do to get more referrals is to go beyond your customers expectations and to strengthen your relationship with your past and present clients so that they remember you when they can refer someone.
Going back to our example business with 1,000 customers let's look at how referrals can grow a business:

At some point you are probably going to have a capacity problem. But for now but look at that is a good thing.
Is it worth deliberately creating circumstances that all you to get referrals?
I would be aiming for the one referral per customer per year personally – when you take the big picture view of it you are only 24 months away from quadrupling the size of your business. (For many businesses investing for this sort of growth will only cost you $40-$60 per customer for the 2 years – or 20-30 dollars per customer per year… an absolute pittance compared to the potential for 4X growth)
Taken in isolation, referrals are critical to growing your business – let alone the total value of each customer. How can you not be investing in a relationship with every customer to get more referrals?

Marketing and business strategist, Dan Kennedy, in his book 'The No B.S. Guide to Wealth Attraction in the New Economy' talks about Gold Star Syndrome.
When professional speakers book a speaking gig they put a gold star on their calendar on the day of the speech and go out to celebrate with an expensive meal with their wife.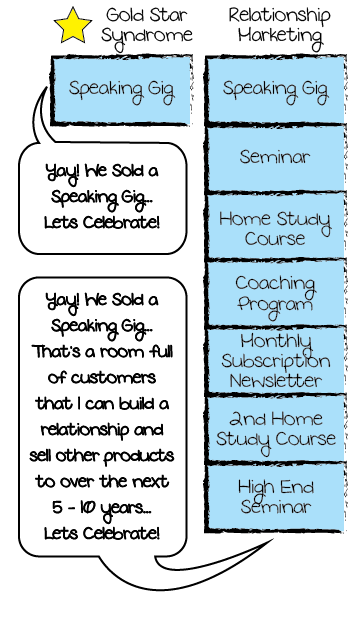 Dan insists that this is a stupid and wasteful way to look at a speaking engagement. That speaking gig is the beginning of the relationship not the ultimate goal of the relationship. Between the now and the day of the speech there is a lot of work that needs to be done to find and deliver every scrap of value to the client (and get paid for accordingly). This maximises his payday on the day and downstream from then.
With nearly 40 years of experience and consulting in 100 different industries and professions Dan insists that Gold Star syndrome in some form or another is universal. Dan elaborates that in every industry niche you can be sure that the people making the big incomes and running the big businesses are the ones who don't suffer from Gold Star Syndrome.
I've seen Dan do this personally. He got a speaking gig with a copywriting training company. He has turned that speaking gig into a Seminar. That seminar into a home study course and coaching program, and a monthly subscription newsletter. A second home study course with a high end seminar – I suspect there will be something on the end of this second seminar too….
What might have been a $10,000 or $20,000 speaking gig (don't know his fees) has spawned over a million dollars in sales that I can estimate. With Gold Star syndrome it stopped at a speaking gig.
Many smart marketers talk about making a sale to get a customer. The first sale is the beginning of the relationship not the outcome. A customer is someone they can sell to repeatedly for their lifetime, as long as they take care of them and work hard to build a relationship with them.
Customers will buy from you repeatedly if looked after. So getting a loyal following of customers who are willing to repeatedly give you money and are willing to refer new business to you is a huge asset as we have discussed.
Say you own a restaurant that is open for lunch and dinner – Every single person eats a total of 730 meals in a year. How many could you realistically capture?
How many of them could they eat with you? Hypothetically, it is possible they could eat all 730. So you could fill a restaurant to capacity for the whole year with one customer per seat.
According to ABS the average number of seats in a licensed restaurant is 118. In a really simple scenario you could fill your restaurant for the whole year with only 118 customers.
In New York there is a restaurant where every table is booked out by the same people, on the same night each week forever. I wish I could find the name of it – saw it in a documentary but take this point. If that place has 118 seats, they have filled their restaurant forever with only 826 customers. Each one coming once a week 52 weeks a year.
How many restaurant owners or any sort of business owner would like that sort of sureity about their income over the next 12 months?
Now if you were capturing the details of your existing customers you have a chance but of doing this for your business. If you don't build the list you are leaving your future up to chance – the chance that the customer will remember you and come back to your business. Otherwise to get them back you have to market to them like a new customer.
With the contact details you can market directly to them for a much lower cost than you can when you don't know who they are.
Personally I've read over 400 books on sales and marketing. Nowhere and I mean nowhere has anyone explained more than one or two of the strategies you can employ in order to make money from your existing customers. You kind of need to put the list together for yourself. Most marketing experts will tell you a list of customers is important but then go back to talking about new customers…
Along with getting referrals from your existing customers I'm going to give you the four remaining strategies that you can use to create both increased income and massive wealth from your list of customers.

You know how we started talking about the Acres of Diamonds story? I'm going to show you how to unearth those diamonds in your business.
There is value in actively and deliberately building a list of customers while also building a relationship with them so that they don't defect.

For many businesses Repeat Purchases of the same product is the first reason why you should build a relationship. People will repeatedly buy either because they don't have a choice or there is an established bond. That bond determines how long they will buy from you and how often they buy from you in a given timeframe.
For example: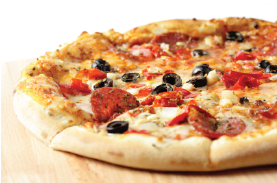 My loyalty to the local pizza store has been largely because it used to have the best pizzas in the area. You paid more but the quality made the extra little bit of money worth it in my eyes.
As a customer I've been ordering there at least once a month or usually more like once a week for about 7 years. Yet my loyalty was driven more by my perceived lack of options than anything else. Many other businesses aren't so lucky.
I was probably spending $30 up to four times a month. That's up $720 a year on pizza. (I spend less on servicing my car…) Not once did I get offered any sort of reward for my loyalty. No marketing – nothing to keep me as a customer. No newsletter, No loyalty card or continuity offer to lock me in for life (all really easy to do for a restaurant).
So despite the $3600 I spent with them over 5 years, they never thought that they would lose me as a customer or they didn't realise I was worth so much to them.
Now I know that had my mailing details, so it wouldn't be hard for them to mail me with offers, vouchers or a newsletter…
Recently, a new pizza store has opened up; I haven't been in to my old store for 6 months now. They don't seem to care, I don't care and I'm still sitting in their database – they could reactive me if they wanted to.
If you don't take steps to retain your customers you going to lose these easy repeat sales eventually. Now another pizza store is enjoying the same level of patronage.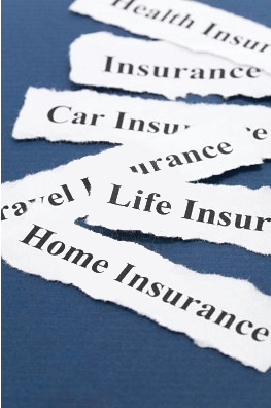 Cross selling is at its heart: Selling Product or service A to people who have purchased product B. And vice versa.
Simply put customers are not as familiar with all of your product lines and service offerings as you think they are.
Often times, simply staying in touch with customers and educating them about all the products and services you offer will bring many buyers of only one or two of your products and services and get them to buy everything they can from you.
For example – say you run an insurance agency. You might get many clients where they only hold a single policy. Over time you should be able to get them to buy the other types of coverage you offer by simply educating them about what other products you have. This will increase your revenue per customer further.
This is hard to do if you aren't collecting customer information and building a relationship with them. But again, those additional cross sells don't happen by themselves. You need a strong relationship with a customer in order to get all of those sales.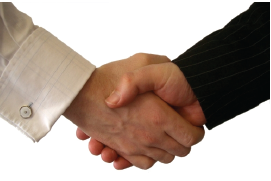 Joint Ventures or JV's as they are known in the industry, is where someone else promotes their product or service to your customer list and you as the list owner. Often times the revenue split can be up to 50:50.
Without getting into the specifics, the person doing the promoting usually provides the marketing and does all the fulfilment, so you as the customer list owner generally only have to provide the customer lists and some of the marketing costs.
So say you have 2,000 customers and you can get 1% of them to buy a $1,000 product. That is an extra $20,000 gross and $10,000 to you for simply having a customer list. Done well you can get a much better return than that. In many cases $10,000 out of thin air is a pretty good deal. And there is nothing stopping you from doing this many times in a year. One every two months would net another $60,000 for too much extra work.
Many mail order companies in the United States make as much out of their list rental business as they do out of their mail order business.
I know many internet marketers basically make their living from JVs to their list. They see their only job as maintaining a strong customer relationship so that anything he promotes in a JV has a massive response.
Now just because you aren't an internet marketer doesn't mean that you can't do this. It works perfectly well for you as well. The key challenges are selecting the right business to the JV with and having a strong relationship with your customers.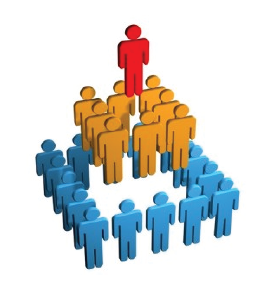 A list of satisfied customers can be incentivised to refer. As we discussed it is probably the easiest way to grow your business is to get your already satisfied customers to refer.
Just building a relationship with your customers will generate referrals all by itself. However a strong relationship with your customers can be harnessed by directly soliciting referrals from past and present customers.
If you have a list of customers that have a strong relationship with you can conduct really simple referral campaigns any time you need 'a surge' of new clients. Or you can create a steady flow of referred new business. But if you want this, you need a strong long lasting relationship with your past and present customers.
You need them to believe you are providing exceptional value and service to your customers.
After all, customers expect more than just 'good enough' these days. They want to feel appreciated. Then they know that the people they refer will also be appreciated. If they feel that all you are interested in is their money then I can guarantee that you are not going to get the referral rates you want.
Referrals can be gotten in many ways, but that's not the focus here. The key thing to do to get started getting more referrals is to strengthen your relationship with your past and present clients.
Leveraging that relationship to generate referrals, you can:
Create the impression that your other customers refer and that this client should too. (easier than you might think)
Conduct 'Gift with referral' types of campaigns.
Referral competitions for person you refer you get you one entry…
Host events where referees can come as 'guests'
Success or failure of referral campaigns hinges on the strength of your relationship with your customers. Good is no longer good enough to be rewarded with referrals. You need to be outstanding in the eyes of the customer.
This means delivering outstanding product and service, it also means actively building an ongoing relationship with your customers after the first sale. The first sale needs to be the beginning of relationship not the goal of the relationship, if you want to get everything you can out of your business.

At some point everyone is going to sell their business.
A customer database makes your business more valuable. A customer database that is well maintained and that you are actively forging a relationship with. Your database is measurably contributing to the business and makes your business very valuable. If that contribution from your customer list is growing then it is a no brainer about the value of those customers to your business.
This changes your value proposition to a potential buyer. No longer is the buyer looking at a business but a series of working systems creating present income that they can buy knowing it will create future income.
No longer are you selling the physical assets of your business – the sum of the parts as an accountant would but a genuine system to make money. Crudely put your sales pitch becomes
"Give me X for my business and if you keep doing what I've been doing you'll make your investment back in Y years. Less, if you work to grow the business harder than I have been."
The predictable future income is what counts towards your sale price. That is why in general a Real Estate Agency is sold for three times its rental income. All those house sales don't contribute to the sale price at all. It is the predictable future income from the rentals that the buyer is after.

It is 12 to 24 'sales free' customer contacts a year with each customer. This is outside of offers/sales pitches and everything else you do. If you just sell to people they get over you quickly. Remember how we talked about the relationship is more than just showing up and asking for money? This is what we mean. You need to build relationships.
You can use all sorts of media to achieve this,
Online – this can be really slow – Commercial email has around an 11% open rate – that means that only about 1/10th of your communications are building a relationship. One of the best email marketers I know says it can take 2 years to create a really strong relationship with a customer using purely online marketing.
There are faster ways to build your customer relationships.
Smart business owners know it is about highest ROI not lowest cost. Do you want to spend $1 to get $100 or do you want to spend $100 to get $10,000? And get your $10,000 in 9 months rather than your $100 in two years?

Face-to-face, phone and mail are the way to go, to get a strong relationship with your customers. There isn't a lot of leverage in phone calls. Unless you have a telemarketing company working for you. But then they are building the relationship, not you. Seriously who wants to be interrupted by a phone call by someone who wants a chat when they are busy and have things to do.
The best, fastest, highest ROI way to build a relationship is… offline printed materials.
For businesses looking to get started in building a relationship with their customers I recommend a monthly printed newsletter.

How The Nice Man in the Hawaiian Shirt Managed to Retire on the Back of Mailing a Newsletter to Potential Customers
Recently, when I was on holidays in the U.S.A. At the Rock and Roll Hall of Fame I was standing in line behind a very nice man in a Hawaiian Shirt.
The line was a little slow on the day and we got to chatting. Turns out he had retired. He was a real estate agent. He'd made good during the property boom in Hawaii and retired.
I asked him what he did differently to other real estate agents. They all had the same opportunity as he had, yet I was talking to him not the others.
He talked about when he started. He was out every day knocking on doors trying to drum up business. Lots of doors got slammed in his face while he tried variants of:
"Hi I'm Roger, Do you want to sell your house?"
After a couple of weeks he added a second question. When 99.9% of the people he asked the first question to said no he added.
"Would you like a newsletter that has tips on how to increase the sale value of your house?"
He hit critical mass when he was mailing 2,000 newsletters a month. Each newsletter mailing was getting 4 new listings each month.
It took him a year to build that database of 2,000 people. Over the next 10 years he made his fortune and retired. All on the back of simple newsletter.
Repeat purchases are driven more on relationship than anything else. People will buy again and again from people (businesses) they 'like.' More so than any other factor. If you want loyal customers you need to be building a relationship with your customers above and beyond the completion. A printed monthly customer newsletter does that for you with the most leverage and the gets you a return the fastest.
Done correctly, a monthly printed newsletter can stimulate repeat business, generate referrals and at the same time build a strong relationship with your customers. Most importantly – on its own, done monthly, a newsletter gets you your 12 free touches a year – the bare minimum that you need to build a relationship with a customer. Ideally you should be doing 24.
With your newsletter giving you the first 12 touches you can look at add to remaining 12 or more touches once the newsletter is humming along – which takes less than a month when you are working with us.
For example:
We've done Christmas card mailings for clients and customers rang the client and said 'thank you' they also placed orders even though there was no specific call to action in the Christmas card. That mailing paid for itself even though it was meant to be just a relationship building touch.
For those of you who get this and see the value of it but understand that doing a monthly newsletter is hard work and if you aren't being held accountable means it will go out for 3 or 4 months then you miss a month, then you do one, then you miss 2 months… Then you miss a year. Most of our clients have had this experience in the past – and now work with us to eliminate the risk of that happening.
A lot of our clients understand that you need to be doing your newsletter monthly and not having any gaps. We have a client that wanted to do a newsletter but they hadn't done an issue in 12 months before they got started with us.
.
.
.
During our time together, you will:
Learn advanced newsletter monetisation strategies
Content strategies to maximise newsletter effectiveness
Calculate your ROI, breakeven and model the results.
Best strategies for you and your business to get your newsletter written, designed and printed and mailed
We explain the precise workings of our newsletter system so that you get the perfect customer newsletter out every month to everyone who should receive it – Guaranteed. We've used this exact system ourselves since we started and haven't missed an issue to date for ourselves or for our clients who use this system. (It will take you less than 5 days to do a year's worth of newsletters using this system.)
Finally, we will be able to work out if we are a good fit for each other
We normally charge $297 to do these consultations – but because you are here, investing your time reading thiswe know you're a serious business owner, so we are going to let you do this consultation at no cost. We don't take on every customer we encounter – we really need to be a good fit for each other and to be honest, we need to know in advance whether or not your business can genuinely benefit from a newsletter. It saves both you and us a great deal in the long run.
But before we go into that, there are some of you who are sitting on the fence. From here you are really faced with 2 choices. You can continue on as you are. Some of you are happy about this. Your businesses are going okay and you know you can do this yourself. Some of you are already going to know that this isn't for you. Some of you know you should be doing something like this but aren't.
If you don't do this now then nothing is going to change. You will be hoping for repeat business from existing customers. Your business is going to keep churning customers at an unsustainably high rate.
Your referral rates will stay low too.
Your new customer marketing is going to have to do all this heavy lifting it doesn't need to do in order to grow. You are losing all these additional revenue opportunities. You are keeping the eventual sale price of your business well below what it could be.
Implementing a monthly customer newsletter will change all five aspects of your business: Increased repeat business/customer retention, cross selling, referrals, joint venture effectiveness and increase the sale price. And in the clients we select to work with it only requires a minor change in referral rates or increase in frequency of purchase to pay for itself.
Newsletters are a 'reap what you sow' proposition. If you choose to sow nothing now there will be no harvest. The choice is entirely yours.
Register Now and you could receive a free gift just for getting started valued at over $2570!
Because our system makes doing a monthly customer newsletter so easy you'll have plenty of spare time, so we've organised a $2,000 holiday voucher for anyone who goes ahead with our full newsletter program content, design and printing – we'll cover the details in the consultation.
But these gifts are only for action takers who are ready to get started. The long term stability and growth of your business depends more on your ability to grow your existing customers than it ever will on your ability to get new customers through advertising.
Sincerely

Ben Wendel & Zac Nelles
P.S. If at the end of Newsletter Suitability Audit you feel we have wasted your time simply let us know and we will donate $100 to a charity of your choosing.
P.S.S. Anybody who gets started immediately after the consultation also gets a second free gift: A NEW iPad.