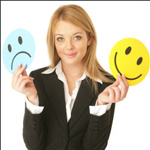 This morning I was reading Dan Crick's Newsletter, "The Marketing Edge." (Top bloke – I have a lot of time for him.) Dan had come across this research from Forrester. Now Forrester put out a lot of data but only occasionally actually gives you worthwhile information.
Here is the slide that summarizes it best: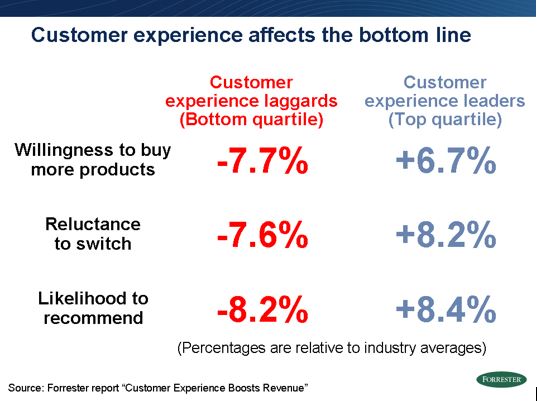 If you want to Retain Ups-sell/Cross-sell or get Referrals from your existing customers your customer experience had better be good – top 25% good. For those of you who don't do math, from being the worst in your industry and best in your industry amounts to between 13% and 16% MORE retention, larger transaction sizes and more frequent purchase and referrals.
According to Jarrad Diamond, "Success is simply avoiding all causes of failure." Customer experience is a cause of business failure.
Good customer experience will vary, based on what the customer wants and needs from you. Things like having the job done when you say it will be done. Doing it to a high standard may be more important in some cases.
Other times, it may be about having an exceptional atmosphere. Take Starbucks – premium pricing for coffee: largely driven by the environment they sell it in. Fresh coffee smell, nice couches, good music playing in the background and well trained capable staff. Makes a big difference to the price Starbucks commands for coffee.
Take the time to find out what your customers want and deliver it to them. It will make a big difference to your bottom line – far in excess of the initial investment (It's not a cost if it makes you more money).
Then you need to back those changes up in your marketing to really maximize the return on your investment. The best customer experience should be getting as many customers as possible to it.