A Partnership Formed To Help Clients To Fill A Gigantic Gap In Their Businesses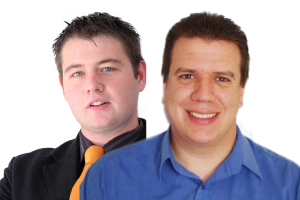 Ben Wendel and Zac Nelles met in early 2011 at a seminar. They are closer in age than most of the people that were at the seminar – which was a bit of godsend for both of them. Both direct response marketers – they work to create marketing where the return exceeds the cost. Regardless of whether they are working on lead generation, customer acquisition, client retention or client value development they create marketing systems and materials that can be run to reliably create results that create greater profits and cash flow.
When they first met it took Ben all of about 3 seconds to work out that between them, they could identify the opportunities for their clients, then create and implement campaigns for our clients to help them grow their businesses.
They did a couple of projects together, and six or nine months later they were talking about what else they could do together that would create great results for their clients, while at the same time leveraging their combined skills.
One thing they noticed with our clients is that there was only so much they could implement by themselves and that if you didn't help the client implement then they didn't make as much money as they deserved.
The Revelation
Ben and Zac were sitting together at a seminar in mid 2011, listening together to another business guru drone on and on about how to get more leads and more customers – this one was talking about print ads.
There are different types of gurus talking about how to get more sales, more leads with different media. Some talked about the internet, (a lot do actually), social media, others speaking, magazines and on and on and on. In fact if you look you can find a guru who will tell you how to get rich using any media.
They started talking back in one of their hotel rooms at the end of that day of the seminar. They had a bit of a revelation. You can use all of those media to get customers. And you certainly would if you had a plan and systems in place to keep the customers generated to get future sales and referrals out of them. If you didn't why would you bother to get those customers in the first place?
They agreed the following:
Firstly, any face to face sales person with a good amount of time in the trenches will tell you 'straight off the bat' that referrals are the single best source of new customers
Secondly every one of these business gurus would say something along the lines of you make your money after the first sale but they never really talked about how. You might hear something like "keeping customers is important" or it is all about the "back end." But then they would change the topic back to getting more customers with speaking or print ads etc.
Since keeping customers was so important rather than teach people how to do it themselves they should create automated turnkey systems for customers retention, referral stimulation and customer value development.
About the time Ben and Zac met, Zac had just heard Dan Kennedy mention the late great Gary Halbert say: "Dan is one of the damn few copywriters who consistently puts his money on the line with his own businesses and campaigns."
It occurred to him that if his marketing ideas and copy was working so well for clients then he should be willing to risk his money building his own business. Ben felt the same way about his marketing ideas, and his design and printing business. If he could make his client's marketing work better for them – he should put his money where his mouth is and build a business.
On the back of those threads intertwining and a handshake Newsletter Marketing Systems was born.
A Bit More About Ben
Ben Wendel is a graphic designer and print solutions specialist who helps entrepreneurs and business owners receive a high ROI on their print based marketing. Over 400 Australian businesses now rely on Ben's marketing guidance and design services. Although he prefers to help small business get high ROI from their marketing, Ben has worked with well known Australian companies including Bloo, IGA, Retravision, Sportspower and Optus. Plus he's worked with a who's who of Australian entrepreneurs including Mal Emery, Glenn Twiddle, Angie Spiteri, John Mu and Robyn Pearce.
Ben's Story (In His Own Words)
I was brought up in the sunny city of Perth in Western Australia. I was raised by my caring parents who showered me and my brothers with love and affection. Although our family didn't have much money, we were all happy.
As I got older and began contemplating my future, my Mum would always tell me "No matter what you do, you will succeed." – With that attitude, I sought out to find my passion… When I finished high school, I decided to go to university. I loved to create things, I loved art, film, writing and music and I wanted to make any of them a career. I began a communication course, majoring in Film and Video, but after 18 months I became fed up with the unpractical nature of the course.
Just as I left Uni, I met my first wife. She already had a two year old son named DJ and after six months, when we were engaged, I took on the role of Dad. So suddenly, at the ripe old age of 18, I had a fiancé and a two year old. I needed a full time job to support them, and wanted to keep in-line with my creative passion, so whilst looking for a job as graphic designer, I ended up in a print shop for a year, where I learned a lot about the printing industry.
During this time, I had another child, my beautiful Daughter Holli. But financially we were not in a position to get by. So I took a leap of faith and decided to start my own design and commercial printing business called Strive Designs.
Business was a lot harder that I'd anticipated, and early on it was a struggle. The only reason that I survived was that early on I got a few good clients who ordered regularly and who started referring other businesses to me. At this time I attributed 'word of mouth' as the avenue that grew my business. (Little did I know that I had accidently stumbled upon relationship marketing)
Because I was in front of flyers and business cards and marketing all day long, I had a big-head, (seriously… I thought I knew everything about marketing…) But in 2008 I had my ego shattered when I tried my own mail-drop and got only 1 phone call. Shortly after that I was introduced to the world of direct-response marketing by Mal Emery. Over the next few years I immersed myself in the world of marketing and copywriting. I took particular interest in how it applied to printed media such as flyers, newspapers, signage, business cards etc.
I began applying the direct marketing strategies I had learned to my own marketing and my clients' marketing. I had some big wins and some big losses. Nowadays I win more than I lose… But nobody is perfect. Life was good, business was picking up and most of all… I was making a difference in my clients' lives
Then it all fell apart
On Christmas Eve 2009 my wife was involved in a serious car accident which put her in a coma for 2 weeks; she de-gloved her scalp, broke 13 bones and sustained a significant brain injury… To top it off, her father was also in the crash and to this day has still not recovered from his brain injury.
At the time, I had a 2 and a 6 year old at home who were crying for their mummy and missing their granddad, I was the sole income earner working 40+ hours a week trying to make ends meet, I worked full time for myself, had no savings and was in a pile of debt trying to claw my way out…
Suddenly my world was turned upside down… I was now the full time carer for the kids, I had to try and juggle work in the evenings and I had to deal with the stress and strain of whether my wife would recover from her coma and if she did, what effects would the brain injury have on her personality, on her health and on her future… Honestly, I don't know how I managed, but at the time, without any hesitation, I stepped up to the challenge and just did it!
I was fortunate to have the support of my friends and family, and my clients. Everyone was exceptionally supportive with words of comfort, prayers, gifts and patience…
Over the next 6-12 months, My wife slowly recovered, she escaped with minor short term memory loss and difficulty concentrating and her physical injuries only left her in slight discomfort, but under the circumstances it's a miracle she could walk.
There were dozens of lessons learned during this hardship, but there are 2 very important lessons that I'd like to share with you. One personal and one business.
Firstly… Never take what you have for granted, life can be taken away in an instant. Be appreciative of what you have. Things like debt, crying kids and broken down cars are specks of dust in the big picture… Focus on those you love, be grateful for every moment and tell people you love them and appreciate them.
The second lesson is that your loyal customers are your biggest asset in business. During this difficult time, I had to cut back my work hours, I cut back my marketing and I relied 100% on my existing loyal customers to contact me when they needed printing. Because of my past relationships, there was a reliable, predictable stream of repeat orders coming in from loyal customers that kept my business turning over and kept food on my kids' plates.
I believe some of my clients intentionally ordered more or ordered early to help me out financially, they were extra patient, they paid on time and they were very understanding and compassionate… I really do believe that keeping your clients happy and loyal and developing a REAL relationship with them is an integral part of any successful business. (It was in this moment I REALLY got just how important relationships are in business and started to ask the question "How can I create this loyalty with every customer?" )
Since the accident, I realized that I was essentially a walking done-for-you marketing machine… I had the skills to write copy (not as good as Zac… but enough to be compelling), create graphic design, build and market websites and give advice on marketing strategy. Despite all this, I was still working 40+ hours a week, I was getting fed up by the job-like nature of my business and not being able to get ahead I really wanted to put my money where my mouth is and use my marketing skills to grow a business, rather than just keep on with 'a job' which is what I felt I had with Strive Designs.  I looked at lots of ideas, but eventually met Zac, we connected and a few months later we started Newsletter Marketing Systems
In June of 2012 I split up with my wife of 3 years, we were very different people and she struggled being married to an entrepreneur. I spent a week on my Granddad's farm reflecting on my life up until this point. I realized that the one thing that drove me to pursue success in business more than anything was that I wanted to make a difference. I had become stuck on the notion that I needed to make money and then I could make a difference. I'd been going about it all the wrong way and I have since taken the approach that I can 'make money by making a difference'.
In my spare time when I'm not doing 'dad' stuff, I like to socialize, I tend to be creative in my activities, I play guitar and write songs. I indulge in the occasional computer game or movie watching and of late I started collecting Pokemon cards with my son DJ.
With Newsletter Marketing Systems I now have the opportunity to help businesses just like yours to build relationships with your leads and customers so that you can get large response rates from qualified prospects through the proper use of newsletters (and other marketing materials) while still letting me spend plenty of time with my family.
About Zac
Zac Nelles is a strategic marketing advisor and an award winning direct response copywriter as well as an author and speaker. He has won an award with American Writers and Artists Inc (A copywriting training subsidiary of Agora Inc, a $300,000,000 direct mail company.)
Zac is also Australia's Only Dan Kennedy Gold Certified Copywriter For Information Marketers. To a small circle of Dan Kennedy's Copywriting Academy Alumni he is known as 'Kangaroo Zac' and Dan Kennedy's personal enforcer.
He has worked with companies from industries including health, finance, business opportunity, beauty, software, seminar providers, coaching, training and consulting. He has helped each client design, build and implement marketing systems to maximize sales revenue while minimizing manual labor. Newsletter Marketing Systems was formed with the goal of helping business owners tap into the single biggest opportunity in their business. Acres of Diamonds in a business person's own back yard. While at the same time delivering more of the best types of new customers – referrals.
Zac's Story (In His Own Words)
Once out of university, I worked in sales for 4 years initially selling roof restorations where I had to find my own leads. Obviously, when you are new to sales, finding your own leads means knocking on doors, doing trade shows and booths at supermarkets.
Yeah, I was over that in about 2 weeks. But where to finds leads if I wasn't door knocking? This challenge led me into the world of direct marketing and copywriting. By learning how to create direct marketing systems and how to create sales copy to make those systems effective, plus some trial and error, I was able to create a steady stream of leads.
A steady supply of leads turned around my flagging sales numbers and ended the tedium of cold calling. In fact every time I put $100 in the mail about $2,000 came back in commission. This was my first attempt at direct marketing. At the time I didn't know how good this was. At the end of my time selling roof restorations I took a marketing role in a start up Software Company that sold enterprise project management systems.
After a few years there the entrepreneurial bug bit again and I started freelance copywriting in 2009. Soon after realising that I should also be adding more strategic advice so that clients can get optimum results from the copy I write for them.
It was at this time that I realised I had been preparing for this type of work all my life. I enjoyed strategy games, brain teasers and logic problems of all varieties growing up. What I loved about them was solving puzzles, finding ways around problems – brute force is seldom the best answer.  Business is just the only strategy game you can play for real money – and not get laughed at for being 'a professional gamer.' (Seriously, they are real).
Not that I care about the laughing, I still enjoy play Games Workshop's Warhammer 40,000, card games such as '500,' and role playing games like Call of Cthulhu. I don't enjoy PC based games so much because I spend so much of my working time staring at a computer screen. Most recently this love of strategy games has evolved into an interest in Dreamteam and Supercoach 'Fantasy AFL Football.' In under 3 years I have evolved into an 'outstanding coach' by their standards' (being able to consistently hit the top 15% overall – despite only playing to win 'leagues').
A friend and I have the strategy for the game so down pat we were both able to finish in the top 10% in my first season of NRL Supercoach despite being able to name 7 NRL players if you count code hoppers Karmichael Hunt and Israel Folau who both played afl that year. So five NRL players that actually played NRL that season. I've also only seen about 10 NRL games in my life. We just wondered if the fantasy football strategy applied across codes. Outside of work I still find the time to regularly attend concerts, read plenty of books and cook.
I have taken the title of Self Proclaimed Iron Chef Deep Fried and regularly contribute a recipe in our monthly printed newsletter which you will receive if you have given us your full mailing address. request our guide 'Getting More Repeat Business & Referrals' to receive it!
After reading a book called Born to Run I have become an avid runner. Despite being 6'6" and 150kg – I can chug out 5 minute kilometres quite comfortably. While I enjoy eating meat I find myself spending more and more time preparing good tasting and satisfying vegetarian and vegan meals as my weekly 'running mileage' goes up.