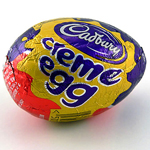 Easter is just around the corner and the shops are packed full with chocolate. I'm not a huge fan of Easter egg chocolate, but there is one thing at Easter that tempts me, and that is Cadbury Crème Eggs. I have no idea what's inside exactly, but they are delicious and addictive.
Back a few years ago there was an advert on TV about Cadbury crème eggs, it had a bunch of characters representing the zodiac signs coming up to a microphone: "I'm Leo and I eat a lions share", "I'm Gemini and I like to slurp it, bite it, slurp it, bite it" and then at the end it says "Cadbury Crème Eggs: How do you do it?"
So how do I do it? – Personally, I bite it, suck out the crème then eat the chocolate. You probably wouldn't notice though, because it all happens in about 2-3 seconds total. Hollie calls me a vacuum when it comes to food. My kids eat them differently, somehow getting it all over their hands, their faces and the table. Everyone consumes them a little differently, some fast, some slow, some savour it, some demolish it… Some crave more, others are lactose intolerant and give theirs to someone else or throws it out.
But this question got me thinking… Newsletters are also consumed in various different ways! So I got to surveying a few clients about how they consume the newsletters we send them? Asking the question: "Newsletters, how do you do it?"
There was a series of different answers, but here's a few of the different ways that came up a bit:
"I just have a quick flick through and read anything that peaks my attention"
"I don't really read newsletters, I have a quick look to see if there is anything important, then throw it out."
"I put it in my in-tray and get to it when I have a few spare moments"
"I love the trivia and Sudoku puzzles"
"I only like the articles, I'm not a fan of all those puzzles and stuff"
But I have to say, the most interesting answer was Chelsea from Lasermail. She said:
"I love reading, it is relaxing, it is time away from my busy work life, the 3 kids, the husband and just allows me to be on my own and take in some interesting stories at my leisure.  I just don't feel the same as when I get an email. To easy to delete and when I'm in front of a computer it is usually because I'm working not relaxing.  Lots of things I read I wish I could remember for later on and use when the time is right.  So about 2 years ago I started a newsletter file. It is awesome. I can flick through and re-read something, see a design I like, use an idea for something at work.  It really is the best thing I ever did."
We know that not everyone files away our newsletter for reading later like Chelsea does (we wish they did), but everyone has their own way of consuming newsletters, whether it is a quick flick-through or a thorough read through.
Personally, and I'm not proud to admit it… I don't really read newsletters much, If I do, it is a quick flick through, find anything important or interesting, then discard. With my kids School newsletter, I just quickly scan for their names or photos, if not it goes in the bin.
But I would be interested to hear more about how you consume our newsletter. So  please let us know? How do you do it?