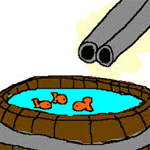 Some time ago now, we were contacted by someone on our mailing list. Wanting to put out a newsletter through their local paper.
Ben ended up talking to the fellow, 'Roger' had decided that it might be a good way to drum up some business for himself.
This for us is easy money. Write, design and print = Cash in the bank. After talking with Roger, Ben was sure that Roger's idea was not going to do what he thought.
There are several reasons for this. Firstly, Roger was looking for leads. And if you are willing to spend the money to insert an A3 double sided print job in the newspaper then we can put together a far better lead generating piece with that much real estate than you could ever hope to achieve with a newsletter.
Secondly newsletters are primarily relationship building devices. They are not for making first time sales directly. If you are in any way 'financially responsible' you'll only invest money building a relationship with one group of people with a 'maybe asterisk' against two others.
The First Group – current customers who are already satisfied with your products and services for whom you have a strategic level plan on who you are going to make money from them. This can be as simple as getting a referral from them over the next 7 years.
The Second Group – potential buyers who have expressed interest in buying from you for the first time (the viability of marketing to this group with a newsletter should be determined by CLV – customer lifetime value and ROI – return on investment)
The Third Group – is past buyers who haven't made a repeat purchase within a logical time frame (the viability of marketing to this group with a newsletter should be determined by CLV and ROI, however if you can afford to send a newsletter to potential buyers this list deserves a newsletter too)
So we could have taken Roger's money. $20,000 plus from memory when you include the printing, however sending a newsletter once, doesn't a relationship build. Trying to get somebody to express interest in purchasing doesn't work very well when you haven't got a specific measurable call to action…
I know that eventually he got it done. Hasn't done it again to my knowledge. Odd that the newspaper was so keep to take Roger's money. No its not. They are in the media selling business not in the make Roger money business.
We know we when working with a client you need to make sure that they have every chance to make money. There is always a risk but do you want to be shooting a 5 cent piece from 2km away with a pistol or would you rather be shooting a barrel shaped fish in a barrel at point blank range with a submachine gun? (Being watching a 'Sons of Guns' marathon while I had a cold on the weekend…)
If we help you do the first one and you fail we know we get blamed. We help you do the second one we probably have a customer for life. The newspaper won this one and pocketed the easy money. We understand we are a quality not quantity operation. Staying clear of Roger helps us work more effectively with our smarter clients.